Solar Charge Controller
A solar charge controller is basically a voltage or current controller. This device plays a critical role in solar system to protect the battery from overcharging. The major role of a solar charge controller can be broadly listed into three functions.
Plays a critical role in charging the battery with right power.
Displays an indication when the battery is full to make informed decisions.
Closely monitors the battery voltage and appropriately cuts off the load when the voltage is low.
We use cutting-edge technology and fine raw materials in producing leading solar products. Our solar charge controllers ensures :
High reliability by monitoring the entire current & voltage flow.
Increases battery life by protecting the battery from over charging.
Ensures battery stability by facilitating controlled discharge to battery.
Whatever your application, we are the finest Solar Charge Controller Manufacturer Company India. We ensure the right controlling of solar power and safeguard investments.
Applications of Solar Charge Controller :
With increased adoption of solar system today across industries. The necessity of solar charge controller becomes pertinent. Following are some of the best use case of solar charge controller :
Street lights which use solar panels to convert sun energy to light.
Home lighting system and house-hold applications which drive energy from sun light.
Hybrid systems which uses a combination of both solar and grid power.
Overcharging any battery can cause irreversible damage. In a worst-case situation, overheating can cause explosive results. Hence getting a right Solar Charger Controller is a safe option for your solar system.
Being a leading Solar Charge Controller Manufacturer Company India, we supply controllers in all features, sizes and costs. Our product ensures long-term battery health under all sorts of operating conditions. Reliability, safety and performance are important considerations offered by us.
Solar Charge Controller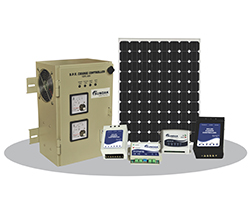 The term "charge controller" refer either to a stand - alone device or control circuitry integrated within a battery pack, battery-powered solar device or battery recharger.
Solar charge controller regulates the rate at which electric current is added to or drawn from batteries. It prevents overcharging, over and variable voltage which if not controlled can reduce battery performance of life span and may pose a safety risk. It also prevent complete drainage ("deep discharge") of a battery. It also facilitates controlled discharge of the battery thereby maintaining its longevity.

• Easy to connect with solar panel
• Lower energy consumption.
• Reduced maintenance costs.

Feature
• 15V to 168V Input panel voltage
• 12V, 24V, 36V 48V, 60V, 72V, 96V Battery Voltage
• 10, 20, 30 and 40Amp Solar Charging Current
• 90% Charging Efficiency
• ABC plastic casing / metal casing
• Copper wire with thimbles for Input /Output terminals
• 5 Amp DC output with battery low cut available in 12V and 24V Models.