Solar Street Light System
Welcome to the home of Solar Street Light System. We are India's leading Solar Street Light Supplier Company in India. Our stand alone off-grid lighting solution runs with no power from electricity grid. We capture green energy from sun light in providing sustainable lighting solutions. Our solar lights are reliable, high quality and year-round dependable. They are designed for perfection to perform well in different geography and environment.
Key highlights of our Solar Light System :
Street lights are designed in such a way to prevent dust and moisture from accumulating on to the system. This helps the solar light to operate without breakage and for long lifespan.
Intelligent control system: In-built smart system to save energy.
The tempered glass plays a critical role in protecting the light. This enhances the toughness of the light.
High quality heat dissipation technology to convert energy into power effectively.
Year round lighting guaranteed with zero emissions.
The solar street lights are modest, quick and economical to install. No trunking for cables compared to conventional lights.
No maintenance – install and get light for all year around.
We are industries top Solar Street Light Manufacturer Company in India. Our products are not only installed in streets, but also in residential complexes, offices, car parks, gardens and footpaths.
At Sundak Solar Solutions, we are committed in offering our clients a simple process to transition from conventional lights to solar lights. We help our clients with design, technical support and professional project management. Our experts undertake a feasible study of the location and suggest the right specification. Our services go beyond installation. This distinguished reasons has gained us thousands of clients and positive independent customer reviews.
Call us today and find out from our experts on the benefit of using a solar street light system.
Solar Street Light System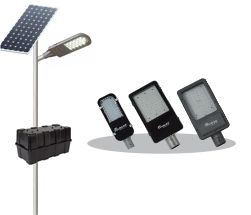 • Available in LED & CFL Various Size
• 6Watts to 100 Watts
• Also available with panel, Battery & pole as a complete System

FEATURES
• Easy to installation – quick connect plug.
• Lower energy consumption.
• Reduced Maintenance costs.
• No mercury, lead or other know disposable hazards
. • Immune to power outages.

Warranty: 2 years warranty on Battery & 20 Year on Panel. 1 Year Warranty on Completed System.