Solar Fan & Cooler
We are foremost names in the industry offering an extensive range of Solar Cooler & Fan. We have transformed solar market with ground-breaking design. Our expertise in the field has made us the finest Solar Cooler & Fan Manufacturer Company India. We manufacture the products in accordance with industries best standard. Finest raw material and cutting-edge technology is used to come out with a product which is long lasting. This competitive advantage offer a commendable functional life for our fan and cooler.
Our products is ideal for use in both Industrial and Commercial facilities :
Industrial Facilities: Workshops, auto industry, textiles mills and manufacturing facilities.
Commercial Facilities: Residential house, shopping malls, marriage halls, hotels, restaurants, offices, shops, gym and any commercial set ups.
Additional Benefits :
Best environmentally friendly solution – comfortable to all locations
High return on investment to customers – no additional maintenance charges or running charges
Light in weight and can be easily installed and moved.
Smart in-built controller offering unique customer experience.
In addition, our product is widely acclaimed for its easy installation. There is nearly zero maintenance when the product is used sensibly. These additional benefits makes us the finest Solar Cooler & Fan Manufacturer Company in India.
Solid in design, safety while in use and zero emission, makes our solar cooler and fan the ideal solution. Owing to large demand across industries. We offer customized solar fan and cooler in varied specifications. Contact us and we will support you with the right Solar Fan and Cooler at reasonable price.
Solar Fan & Cooler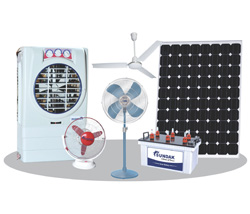 • Cooler Watts: 20W to 30W
• Ceiling Fan- 20W to 30W
• DC Fan -10W to 15W
• Also available with Panel & Battery.

Feature:
• Cool & Fresh Air
• Easy to Connect with Solar Panel
• Lower energy consumption
• Reduced maintenance costs
. • Immune to power outages.

Warranty: 2 years warranty on Battery & 20 Year on Panel. 1 Year Warranty on All type of Fan.