Solar Inverter
We offer India's finest Solar Inverter used for both residential and office purposes. A Solar Power Conditioning Unit (PCU) or an inverter is a holistic solution which enables battery bank to charge seamlessly. Known for high performance, our range of Solar Inverter is the mainstream product available in the market today. Offering Industry leading efficiency, we are the best Solar Inverter & PCU Manufacturer Company India. The design is calibrated in such a way to offer flexible PV string configurations. Our device plays a critical role in monitoring the battery voltage, output loads and solar power to maintain efficiency.
Smart and Safe : The best feature of our Solar Inverter is the built in surge arresters & RCD. This technology plays a crucial role in safe and reliable use of inverter. The cutting edge technology ensures longer life time when compared to conventional inverters. The design is sleek and ensures an aesthetic look. Further, the intelligent battery charging technology makes the device smarter.
Best Monitoring Display : Our experts understand the unique customer requirement. They have built the most customer friendly monitoring system. All our products come with two types of display LED display and LCD display. LED display helps in monitoring critical performance such as solar charging, battery and overload. LCD display helps in monitoring battery voltage, load, PV voltage and current.
The solar inverter is an efficient source of power unit in case of power cut. Widely useful in hotels, restaurants, offices, government offices, retail shops and other places. Ensuring optimum power generation from Solar Panels. We are known as the greatest Solar Inverter & PCU Manufacturer Company India.
Our solar inverters are rated best in the market. If you're looking for popular solar inverter in India, then contact us. We will help you in getting the best off grid solar inverter designed for your unique case.
Solar Inverter & PCU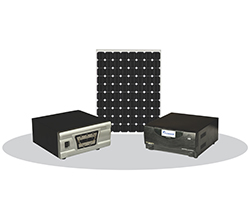 • 100VA to 7.5 Kw
• Micro Controller based
• Lightning protection
• Battery reverse protection
• Panel reverse protection
• Over current protection
• Battery over charger protection

Feature:
• Auto switchover between solar and mains charging.
• Zero drop solar charger (10-40) Amp.
• Simultaneous charging thought mains as well as solar panel
. • Short charging time & Long battery backup

Warranty: 1 years warranty on Inverter.