Solar Lantern
At Sundak Solar Solutions, get overwhelmed in the world of solar lanterns. We are the nation's best Solar Lantern Manufacturer Company in India. Our product range of solar lanterns are used in table, floor and gardens. In most use cases our Lanterns are extremely compassionate in hanging walls. Besides offering clean light, our lanterns add a splash of style & colour to your outdoor and indoor space.
Solar Lanterns are practical lighting solutions for any use case. The device has no running cost and zero maintenance. Our amazing solar lantern can last for more than 10 hours with one full charge. So customers need not worry about power failure. The high frequency inverter guarantees more light output.
Key highlights of our Solar Lantern :
Protected from over charging and deep discharge.
Excellent for remote rural villages and also urban households.
Mobile charging options with friendly power socket.
Super-efficient LED lights, weather proof technology and adequate solar panels.
Our lanterns offer 2 times brightness than conventional kerosene lanterns.
No fumes, no smoke, no emissions and long lasting power guaranteed.
Being a dependable Solar Lantern Manufacturer Company in India, we ensure high quality supply. Our product is light in weight. It can be easily moved and used anywhere. Customers can buy them and readily use where ever they want. The Lantern is compact in design. The battery, solar panels, charger controller and the inverters are designed to ensure rigid performance. The Solar Lantern Manufactured by Sundak Solar Solutions will ensure uninterrupted lighting at no cost.
Supported by vast industry skill and understanding, we present a varied range of Solar Lanterns. We can also supply at wholesale prices. Contact us and we will offer the best price today.
Solar Lantern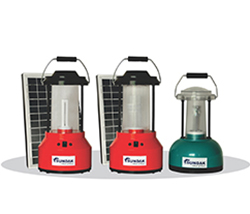 • 3W LED / 5W LED | 7W CFL
• 6V Battery / 6V | 12V
• 3 Solar Panel / 5W | 10W
• Running Hour: 6-7 hour
• AC-DC Charger
• Mobile Charger

Feature
• Compact, Lightweight & Portable.
• Rugged design suitable for toughest conditions.
• Special charging socket to prevent reverse polarity.
• Low voltage disconnect.
• Over charge protection.

Warranty: 1 year warranty on Complete Lantern System. 6 Months Warranty on Lantern Battery.