Solar MPPT Charger
Sundak Solar Solutions is a leading manufacturer of high quality Solar MPPT Charger in India. Typically a solar MPPT charger plays a critical role in maximum harvesting and controlling of power into batteries. They protect the battery storage system from incidents such as gassing, plate damage and overcharging. Sundak Solar Solutions being the leader of Solar MPPT Charger Manufacturer company India. Supply wide range of Solar MPPT Charger for discrete use cases.
We use latest technology which takes into account environmental factors in designing the right product. The algorithm used is authentic and programmed to harvest optimum energy.
Key Advantages to customers with our Solar MPPT Charger :
Extremely useful in eliminating unwanted maintenance of battery cost and battery replacement cost.
Higher reliability/longer life
Optimized programming for specific use case ensures battery longevity.
Extended industrial temperature range
Ultimate performance - even in cloudy weather, battery can be charged quicker.
Over 30% energy conversion efficiency as compared to normal chargers.
Ideal for short duration charging applications.
Consistent performance over time.
Intelligent load control ideal for street and house applications
Our engineering design allows our product to extract more energy even in locations of low solar illumination. Our products offer more than 99.5% Harvest Efficiency. We are known as the reliable Solar MPPT Charger Manufacturer Company India because of our safety features. Unlike conventional products, our Solar MPPT Charger has the best lightening protection.
Customers choose our Solar MPPT Charger because they are reasonable, safe and efficient. We offer both the variety- standard and customized. If any customer is looking for customized requirements, we are the right partner.
Solar MPPT Charger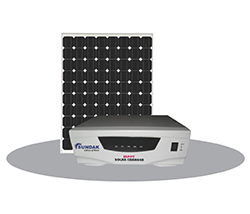 • Lightning protection
• Battery reverse protection
• Panel reverse protection
• Over current protection
• Battery over charger protection
• Reverse Battery protection
• Built in reverse panel current protection during nights.

Feature:
• Wide battery voltage range 12V to 96V
• Wide charging current range 10Amp to 100Amp
• Efficiency greater than 96%
• Size (in mm):23 x 27x 9