Solar Super Converter
With increasing adoption of renewable energy like sun energy. There are plenty of solar systems being used across applications. Customers from all sections have started adopting solar system. But the issue of fluctuating energy is widely absorbed in ongoing solar system. Hence, to address this problem, we supply best Solar Super Converters.
We are well-known Solar Super Converter Manufacturer Company India offering automatic battery management. We supply qualitative range of best quality Solar Super Converter with reverse battery and reverse panel protection. These key features makes us the safest supplier of Solar Super Converter which can be used for vast applications.
Key benefits of choosing Solar Super Converter from Sundak Solar :
Convert direct current from solar panels to alternating current. This ensures seamless use of power in any applications.
Play an acute role in maximizing the power output of the system.
Play a supporting interface role with the grid. The solar converters are smart to identify voltage fluctuations ensuring the grid is not disturbed.
Play a critical role in monitoring the power throughout the operation. Built in monitoring system informs on any possible failure. This helps in trusted diagnosis and to fix the problem if any faster.
Play a thoughtful role in safety of the entire solar system. The device is intelligently built to shut down if there is any sever electrical arc.
Solar Super Converter are a crucial part of any solar system. Sundak Solar converter embedded in a solar system makes the project completely smarter.
Are you someone looking for high performance solar converter? Sundak Solar is one of the professional Solar Super Converter Manufacturer Company India. Equipped with world class factory and technical know-how on solar system. We offer high quality products at competitive price.
Solar Super Converter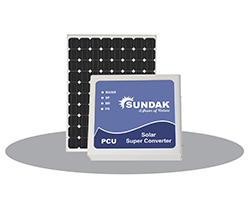 • Wide voltage range (12V, 24V, 48V, 72V, 96V)
• Charging current 20 & 40 Amp
• Weight-1.5 Kg.
• Size (in mm) – 210 x 205 x 75

Feature:
• Digital Microcontroller Based Topology
• Automatic Battery Management
• Automatic mains change over
• PWM BCCV charger (Two Stage)
• Solar PCU functionally
• Reverse battery protection
• Reverse panel protection